Pulse Speed

速 京宏


'

Age

16

Height/Weight

163cm,49kg

Race

Human

Class

Ninja

Faction

Demon Army(6-9)Resistance(Current)

Weapon

Throwing Stars

Relatives

Unknown

Title

None

Status

Alive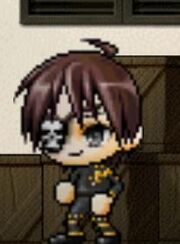 Personality
Edit
Pulse was first introduced to border a hate for humans.However, after his battle with Zalfier, it is revealed that it is due to an unfortunate event that he hated humans. He was a test subject at birth, which caused him to live with a deformed eye when he failed to meet the scientist's expectations,so he believe the human scientists are to be blamed for this. However, he is actually a kind person and will help people in need, as seen when he helped Aurora to calm Slash down despite not knowing her, and that Zalfina see him as a very kind boy that is hard to find. However, Pulse have the tendency to panic, and while panicking, he will do alot of random poses.
Abilities
Edit
Unarmed Abilities - Attacks that use fist and kicks
Pentagon Smash - Hits enemy five times, damage increases with each hit,ineffective if enemy moves away
Force Orb - Hits enemy with a charged orb, damage dependant on charging time
Swift Barrage - Deals multiple weak unarmed attacks on enemy
Ninja abilities - Attacks that involve throwing stars or other ninja techniques
Star Stream - Releases a stream of stars on opponent
Star Drive - Force in a star that hits an enemy into the enemy's body, deals massive damage
Star Shower - Throws Barrage of Stars from above.
Shadow Split - Creates shadow illusions of self, each illusion can attack on its own.
Throwing Stars - As a ninja, Pulse keep several throwing stars with him for ranged combat.
Major Battles
Edit
Pulse was originally part of the main cast in the initial concept of DB, but his role was replaced by Zalfier.
Also in the initial concept, Pulse dual-wields daggers instead of using fist and throwing stars