Lillin

莉琳


Lillin

Age

27

Height/Weight

169cm,51kg

Race

Demon(Scorpion Form)

Attribute

Lust

Faction

Demon Army

Weapon

Crimson Venom (Made by Judaidesu)

Relatives

Drakion(Spouse)

Rank

Captain

Title

none

Status

Unknown
Personality
Edit
Lillin looks like a docile girl due to her looks, however, she is actually a violent girl. Her wish is to have pink clothes, and she wear white clothes so she could get it by adding blood onto it.
Portal Battle Arc
Edit
Lillin accompanied Drakion on the battlefield, she was resting when the Alliance attacked at Rutari Heights. The noise created in the skirmish woke her up, and she joined the battle briefly, where she played a key role in making the Alliance retreat.
Later when Drakion planned to capture Stronghold Reignarock, she asked to join the battle, but was asked by Drakion to stay behind for her safety, which she did. She was later attacked by Iblis, during the fight, she fainted due to immense pain coming from her abdomen, possibly caused due to her being pregnant.
Later, she received proper treatment and managed to survive. However, she is in a coma, where it is unknown when she will wake up again, and she lost her child during the attack.
Abilities
Edit
Transformation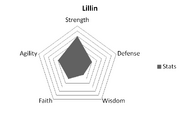 Scorpion Form - A tail with a sharp edge appears, The tail is sharp enough to penetrate Armour and flesh.
Wild Luxuria: Lust Demon Attribute Skill, power increases when fighting enemies of the opposite gender
Lv1: Lost Chastity - Triggers an explosion that affects a set area, more effective of enemies of the opposite gender
Crimson Venom - A crimson coloured sword used by Lillin, it's sharp blade enables her to pierce her opponents with little effort.
Major Battles
Edit
S2 Ep2: Battle at Rutari Heights: (Win)
S2 Ep 6: Lillin & Myst vs Iblis(Lose)
Drakion and Lillin are the first demons to be shown to fuse a demon attribute skill, increase it's power.

Lillin is named after the monster: Lillith