Kazuro Raiken

雷懇 凱羅




Age

36

Height/Weight

165cm,75kg

Race

Human

Class

Mage(Void)

Faction

Unknown

Weapon

Lunaris Staff

Relatives

Unknown

Title

Unknown

Status

Deceased
Personality
Edit
A mysterious person who also seems to be working towards making the Demonic Prophecy come true. It is currently unknown whether he is alone or working in a group.
Portal Battle Arc
Edit
Kazuro was first seen engaging in combat with Aegis, where he shown Aegis the raw power of Void Magic. After defeating her, Kazuro claims that they are working towards the same goal, and offered his assistance, which Aegis accepted.
He later proposed help from Valefor, which she accepted without any problem. What he asked from Valefor was unknown, but according to Aegis is rather risky and inhumane, but she went with it anyway. 
Abilities
Edit
Teleport - Basic teleportation skills for easy moving
Void Magic - Magic with the ability to erase non-living objects from their existance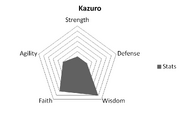 Banish - Removes a non-living object
Impact Shell - A defense type magic that protects the user from any damage, if the user is struck by melee damage while Impact Shell is in effect, the shell will explode once its effects end and cause damage to nearby enemies. User cannot move or cast another spell while Impact Shell is in effect
Lunaris Staff - Kazuro's staff, it has sharp edges at its tip, making it good for melee combat. It also enhances the effect of Kazuro's skills.
Major Battles
Edit
S2 Ep1: Kazuro vs Aegis (Win)
S2 Ep9: Kazuro vs Zalfier (Lost)
Kazuro's surname, Raiken, is translated as Lichen in Japanese according to Google translate