Kaze Fuka

[Character submission: Arialwings]

Age

15

Height/Weight

169cm,52kg

Race

Human

Class

Fighter

Faction

Resistance

Weapon

None

Relatives

Unknown

Title

Blind Ace of Gale

Status

Alive
Personality
Edit
Tomboy, cold-hearted, but at the same time that is how she expresses kindness, arrogant, disobedient, reveals her soft side when she's alone with nature. As of episode 15 she is revealed as a member of the Resistance.
Kaze was once trained under a master in an isolated mountain. She continued training even though her master passed away, and lived in her place. People became interested in having her fight along side them and came to ask her to join them. Kaze, seeing this, issued a challenge that she will follow anyone who could touch her in a duel. Many people tried, including Zaimur from the Overworld Alliance, but they all failed. She was ultimately defeated by Artemis , and keeping her word, joined the Resistance.
Timeless Arc
Edit
Kaze met Zalfier and co. while she was fighting some Demon Army soldiers. After a brief conversation, She was sent flying together with Zalfier due to Excalibur Cannon's recoil. The two continued fighting through soldiers until they met Scarlet . Kaze immediately identify her as a fake but Zalfier does not believe so. She later rejoined the Resistance members after heeding Artemis 's call.
Portal Battle Arc
Edit
Kaze helped Shivaerus and Fenrir get supplies for the Resistance in preparation of their upcoming battle against the Alliance. After Fenrir ran off, Shivaerus and her were surrounded by Alliance soldiers, whom they easily defeat and went back to base with Shivaerus 's help. The following day, she met Zalfier and provided him advice on his next destination, ending the conversation by annoying him.
She was later seen fighting Alliance soldiers in the Resistance base. Even though she was there for a long period of time, she was unable to tell why the soldiers were able to know their location so easily.
Abilities
Edit
Kaze's abilities have yet been shown in the series.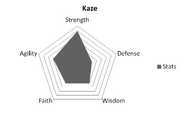 None
Major Battles
Edit
Kaze's name comes from Wind
A recurring gag is that Kaze calls Zalfier 'Mr. Multi-purpose item', usually its accompanied with her using him as a weapon.